---
Helping Parents Thrive

Available on Amazon, KINDLE & AUDIBLE
---
I personally answer every readers email.
Get Support From Hundred's Of Parents!
Join The Book Review Team.

About
Welcome, I'm Jocelyn Goodwin. I have had an interest and passion for learning about parenting infants from a very young age. I'm the first of five children and ever since I can remember I was taking care of my younger siblings. My other brothers and sisters would complain about having to change diapers or babysit, but I didn't mind. I found so much joy in spending time with my siblings and quickly realized I had a knack for it as I watched my older brothers and sisters struggle.Everything I share comes from my personal experience with my daughter, my growing number of nieces and nephews, and years of obsessive research to raise a happy and healthy baby.I have tried and tested almost every method out there for feeding, weaning, sleeping, and parenting. Some things were an absolute failure and some were successful but over time I realized that babies aren't complicated and if you have the proper knowledge and foundation then you can work with your baby instead of against it.Nothing makes me happier than watching you relish the first few years with your baby.Much Love, Jocelyn Goodwin

Available on Amazon and KINDLE
---
Help! I'm A New Mom
A First-Time Mother's Guide to Mastering Newborn Care and Postpartum Recovery
You're excited to be a new mom… but you have no idea what to expect.You know it's going to be a magical experience, but you're feeling both exhilarated and scared.You've been looking forward to this moment for as long as you can remember, but now that it's drawing nearer, you're getting nervous.Maybe you've looked through countless websites on motherhood, but your research is becoming more overwhelming than helpful.Don't worry: you are not alone!Every first-time mom is afraid that they aren't ready, that they aren't prepared for this new phase of life. They doubt their capabilities, and question whether they are going to be good enough.It's not surprising. You're facing the unknown with all sorts of unrealistic expectations, mistruths, and a highlight reel from the other parents you know. It's very easy to feel like you're going to do things wrong, or like you're already doing things wrong.You need a one-stop shop that will tell you what normal newborn behavior is really like and how best to care for yourself and your little one.In Help! I'm A New Mom you'll find exactly that: a comprehensive, evidence-based guide to help you through the first six months of your baby's life.Whether you already have some knowledge or you're starting from scratch, this is the perfect chance to learn the ins and outs of newborn behavior and put those overwhelming feelings behind you.In this practical parenting guide, you will discover:●The art of preparing for your baby's arrival – how to get yourself ready, even if you've never held a baby in your life
●How to get through your baby's first week with flying colors – understand the reality you're facing and know how to handle anything that comes your way
●Exactly what your body goes through after birth so you know what's happening and why, from postpartum to full recovery
●Step-by-step guidance on how to breastfeed – and why many moms struggle
●Common pitfalls with bottle-feeding (there's more to bottle-feeding than you might realize!)
●The truth behind sleep training – and how to get your baby sleeping through the night
●How to properly take care of your newborn – uncover the best techniques to ensure you are doing everything you can for your child
●Common newborn ailments and when to be concerned (do you understand what your baby is telling you?)
●Milestones you can look forward to month by month
●How to prioritize yourself as a new mom (your needs matter!)And much more.Being a new mom can feel scary, but it doesn't need to be!While you're going to face a lot of challenges, this will be one of the most rewarding experiences of your life.Don't wait until you're drowning in the chaos of having a newborn. Get the knowledge you need to thrive.It's time to walk into motherhood feeling cool, calm, and collected.If you're ready to start your journey to motherhood with confidence, scroll up and click the link below to get your copy.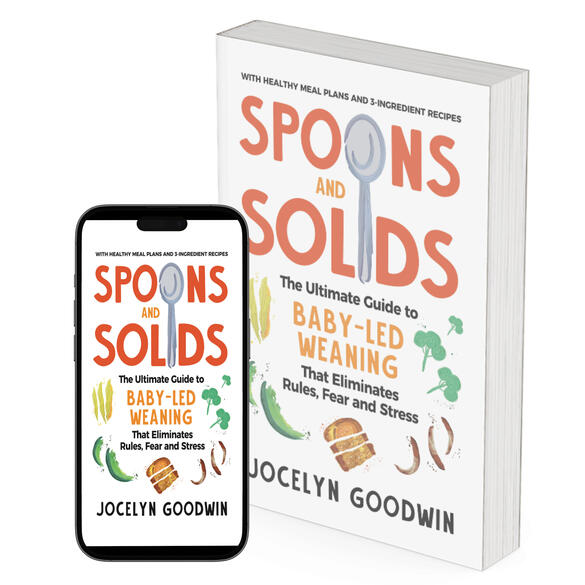 Spoons and Solids
The Ultimate Guide to Baby-Led Weaning That Eliminates Rules, Fear and Stress
Are you ready to stop dreading weaning and enjoy it instead? Keep reading.There's no right way to be a parent.Your baby is unique, just like you, and this means that what works for one child might not work for another. The key lies in finding a balanced approach that encourages healthy eating.For many parents, baby-led weaning is the answer, but how can you make this method work for you without taking up hours of your day?With this easy-to-follow guide, you'll take the guesswork out of the weaning process. Rather than trying to follow strict rules that are unrealistic for the modern parent, you'll discover how to simplify and streamline the weaning process for you and your baby.Many parents fret over the transition to purees and solid foods—they worry about choosing the right types of foods, serving healthy meals, and above all, preparing foods correctly to reduce the risk of choking.But it doesn't have to be this way...In fact, weaning can be something that's just as enjoyable for you as it is for your baby. With simple tips and tricks, you will learn how to approach baby-led weaning like pro, help your child develop healthy eating habits from the very beginning, and turn weaning into a process that's fun for the entire family.Say goodbye to the picture-perfect parent you see on social media, and discover an approach that embraces the reality of being a busy parent.Here is just a fraction of what you will discover in Spoons and Solids:●How to determine the best tailored feeding approach for your family
●The difference between choking and gagging—and what to do if either one occurs
●Simple cooking hacks that will make preparing food easy, even for the busiest of parents
●How to modify baby-led weaning as your baby's motor skills and tastes continue to develop—and what to offer at each skill level
●What NOT to do when introducing your baby to new foods—and the common mistake that many parents make during this process
●Benefits of the baby-led weaning method and how it helps raise independent, healthy, and adventurous eaters from the very beginning
●Step-by-step guidance on how to improve spoon-feeding and properly respond to your baby's reactions
●Practical answers to the most frequently asked questions that parents have about feeding
●Guidelines to transform any adult meal into a baby-appropriate version, so the whole family can enjoy meals together
●Easy 3-ingredient recipes you can make in advance for those busy days on the go
●Healthy meal plans approved by a Board Certified Specialist in Pediatric NutritionAnd much more.You don't need to drive yourself crazy preparing complicated meals each day or stressing about your baby's nutritional needs. With baby-led weaning, you can take the techniques and practices that work best for you and create a plan that makes weaning simple and stress-free.Don't spend another minute feeling confused, misinformed, or anxious about weaning—tailor your approach to your own needs, let your baby take the lead, and discover the joys that weaning can bring.If you're ready to let go of the doubts and worries and finally make weaning a breeze, click on the link below to get your copy.
---

BABY-LED WEANING BONUSES

Free Bonus #1: Baby-Led Weaning Essentials: tried and tested must-have products that parents love. The complete list of the only baby-led weaning and spoon-feeding items that you need. I ordered over 100 different items over my parenting years, and whittled it down to the real stars. You can trust these products will get the job done. I have considered durability, ease of use, and many other factors, to make sure they enhance you and your baby's weaning journey.
Free Bonus #2: Baby-Led Weaning Cheat Sheet: Printable PDF that includes everything you might want to remember when you are in the kitchen, including true-to-size diagrams on the shape and size of basic foods, how to form a balanced meal, top 9 allergens, list of iron-rich foods, list of foods to avoid, 3-ingredient recipes and much more...
NEW MOM BONUSES

Free Bonus #1: Postpartum Essentials for New Moms: Tried and tested products to help you recover and thrive after labor.
Free Bonus #2: Must-Have Items for Every Baby:  The ultimate list of everything you need for your newborn, including some specific brands and products I love.
Free Bonus #3: My Favorite Postpartum Recipes:  Printable PDF that includes healing soups, hydrating drinks, lactation cookies and more.